Paint lacquer easy clean.
Application
Containers and agitators are used for mixing in the production of paints and lacquers. The process involves mixing paint at high speed where solvent vapours can escape. Before new paint is mixed, the container and agitator must be completely cleaned.
Requirements
Cleaning the containers is very time consuming and the static charge of the agitator can cause escaping solvent vapours to react.
Coating
Coating the containers and agitators with a static dissipative version of TempCoat® developed specifically for this application prevents paint residue from sticking and ensures the coating's surface conductivity.
Benefits
Cleaning time is reduced and static charge build up is prevented.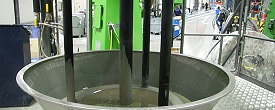 If you would like to know more about our coating services for the paint industry, please give us a call on 01623 753 107 or email us on info@impreglon.co.uk.