Flying ahead with high quality coating solutions.

Impreglon UK is committed to using and investing in world class best practice when it comes to coating types and application techniques. It is Impreglon UK's intention to become a leading coating applicator of specialist coatings for the aerospace and aicraft market.
The needs of the aerospace industry centre primarily around the requirement for long lasting dry lubrication coatings and wear resistant coatings. As part of Impreglon UK's drive to increase its presence in this market, we are embarking on a development programme that will see increased investment and commitment. To start us off, in April 2015 we joined the Midlands Aerospace Alliance.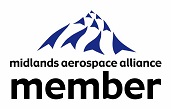 At this time our coating services are used by Tier 1 clients as part of their refurbishment activities, with us coating plant used to produce the end product.
We recognise the need to develop our quality system to at least AS9100 and this is a goal for Impreglon UK.