Two new curing ovens installed
Late 2017 and we have increased oven curing capacity.

During the middle part of the year we received the go ahead to have two new curing ovens installed. The extra capacity will allow us to continue our current growth pattern.
The ovens, made in western Europe, had been installed in our Shanghai plant in 2014. Following a strategic direction change in target markets, the ovens were no longer needed in Shanghai. Step in the UK and we had them shipped around the world to our plant in Tamworth.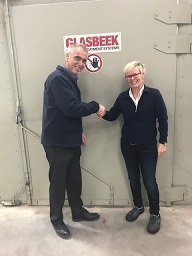 Installation and commissioning was completed on time and on budget and without disrupting our customers or business. So now we are about to enter 2018 with a fifth more oven curing capacity which will help us maintain our high levels of service as our business grows
The photograph shows UK managing director Guy Williams on the left shaking hands with Impreglon Sweden managing director Helena Skagerborg. Helena had the pleasure of switching the ovens on.